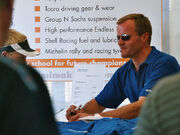 Tommi Makinen
Nationality
WRC in Finland
Debut Rally
1987 1000 Lakes Rally
Last Rally (if applicable)
2003 Wales GB
Date of Birth
June 26th 1964
First Win/Best Finish
1994 1000 Lakes Rally
Wins
24
Championships
4
Official Website
http://www.tommimakinen.net
Tommi Makinen holds the record along with Sebastian Loeb and Juha Kankkunen for the most number of world championships - 4. He also has won 24 rallies. He won the 1996, 97, 98 and 99 championships all driving for the Mitsubishi team. On his last rally, the 2003 Wales GB he got a podium place behind Loeb and team-mate Petter Solberg after a amazing battle with fellow retiree Colin McRae.
List of World Rally Championship Wins
Edit
1994 1000 Lakes Rally
1996 Swedish Rally
1996 Safari Rally Kenya
1996 Rally Argentina
1996 1000 Lakes Rally
1996 Rally Australia
1997 Rallye de Portugal
1997 Rallye Catalunya-Costa Brava
1997 Rally Argentina
1997 Neste Rally Finland
1998 Swedish Rally
1998 Rally Argentina
1998 Neste Rally Finland
1998 Rallye Sanremo
1998 Rally Australia
1999 Rallye Automobile de Monte Carlo
1999 Swedish Rally
1999 Rally New Zealand
1999 Rallye Sanremo
2000 Rallye Automobile de Monte Carlo
2001 Rallye Automobile de Monte Carlo
2001 Rallye de Portugal
2001 Safari Rally Kenya
2002 Rallye Automobile de Monte Carlo