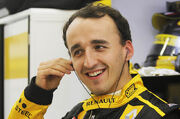 Robert Józef Kubica (born 7 December 1984 in Kraków, Poland) is a Polish racing driver. He became the first Polish driver to compete in Formula One. Between 2006 and 2009 he drove for the BMW Sauber F1 team, promoted from test driver to race driver during 2006. In June 2008, Kubica took his maiden F1 victory in the Canadian Grand Prix, becoming the 99th driver to win a World Championship race.
On 6 February 2011, Kubica was seriously injured in a crash at the Ronde di Andora rally, in which his forearm was partially severed. He was taking part in the rally for personal enjoyment.
Kubica returned to racing in September 2012, winning a minor rally in Italy. Kubica was named one of "The Men of the Year 2012" by Top Gear magazine for his return. In 2013, he drove for Citroën in the European and World Rally-2 Championships. He went on to win the inaugural WRC-2 title, with five wins from seven starts.
In his victorious WRC-2 campaign, his co-driver was Maciej Baran, but for the last round of the season Baran was replaced by Italy's Michele Ferrara. In 2014, Maciek Szczepaniak became Kubica's co-driver.
Co-drivers
Edit
Career Results
Edit
Complete World Rally Championship results
Year
1
2
3
4
5
6
7
8
9
10
11
12
13
Pts
Pos
2014
14
16th
Ret
24th
Ret
Ret
6th
8th
20th
34th
Ret
9th
Ret
17th
11th
Key
Symbol
Meaning
Symbol
Meaning
1st
Winner
Ret
Retired
2nd
Podium finish
DSQ
Disqualified
3rd
Template:DNQ
Did not qualify
5th
Points finish
14th
Non-points finish
Bold
Pole position
Italics
Points for Fastest lap
DNS
Did not start