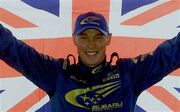 10 years ago today, Britain's most recent World Rally Champion, Richard Alexander Burns, died of a malignant brain tumour aged 34. It was a double blow for British sport after George Best died on the same day. It is with a heavy heart that I write this column.
Richard was a one of a kind man, irreplaceable. With Subaru in 2001, having won only once all season, his title crowning, fittingly at the Rally GB, in scenes reminiscent of Colin McRae's in 1995, also in a Subaru, came as nothing more than a miracle as Colin McRae and Tommi Makinen, the other two challengers for the title, went out. This let Burns storm to a commanding third, enough to beat McRae to the drivers' title by just a couple of points. And then, four years on, his life was tragically cut short, after suffering from a brain tumour that had also done the same to his promising later career, he passed away at age 34. He is to be extremely missed.
Ad blocker interference detected!
Wikia is a free-to-use site that makes money from advertising. We have a modified experience for viewers using ad blockers

Wikia is not accessible if you've made further modifications. Remove the custom ad blocker rule(s) and the page will load as expected.