The 2nd round of the 2009 World Rally Championship was Rally Norway. It was from the 13th-15th Febuary. It replaced Rally Sweden for 2009 as the snow round of the WRC Championship. It was won by Citroen's Sebastian Loeb by 9.8 seconds from Mikko Hirvonen's Ford Focus. It was the first rally for Petter Solberg since the withdrawel of Subaru at the end of 2008. He was in a privateer Citroen Xsara.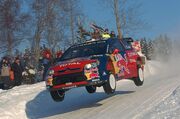 1 Sebastien Loeb Citroen C4 3.28.15.9
2 Mikko Hirvonen Ford Focus +9.8
3 Jari-Matti Latvala Ford Focus +1.21.8
4 Henning Solberg Ford Focus +3.33.5
5 Dani Sordo Citroen C4 +3.52.0
6 Petter Solberg Citroen Xsara +6.25.4
7 Matthew Wilson Ford Focus +6.35.6
8 Urmo Aava Ford Focus +6.49.1
Championship Standings
Edit
1 Sebastien Loeb 20 pts
2 Mikko Hirvonen 14 pts
3 Dani Sordo 12 pts
4 Henning Solberg 10 pts
5 Jari-Matti Latvala 6 pts
=6 Chris Atkinson 4 pts
=6 Matthew Wilson 4 pts
=8 Petter Solberg 3 pts
=8 Sebastien Ogier 3 pts
=10 Urmo Aava 1 pt
=10 Khalid Al Quassimi 1 pt
Manufacturers Championship
Edit
1 Citroen Total World Rally Team 32 pts
2 BP Ford Abu Dhabi World Rally Team 22 pts
3 Stobart VK M-Sport Ford Rally Team 16 pts
4 Citroen Junior Rally Team 7 pts
5 Munchi's Ford World Rally Team 0 pts
Ad blocker interference detected!
Wikia is a free-to-use site that makes money from advertising. We have a modified experience for viewers using ad blockers

Wikia is not accessible if you've made further modifications. Remove the custom ad blocker rule(s) and the page will load as expected.