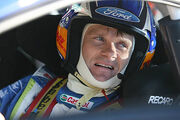 Marcus Gronholm
Nationality
WRC in Finland
Debut Rally
1989 1000 Lakes Rally
Last Rally (if applicable)
2009 Rally de Portugal
Date of Birth
February 5th 1968
First Win/Best Finish
2000 Swedish Rally
Wins
30
Championships
2
Official Website
http://www.mgr.fi
Marcus Gronholm is one of the most successful drivers of all time with 30 wins. He won the championship in his first full season in 2000 and followed it up in 2002 with another drivers championship.
He had some disappointing seasons with Peugoet after that which prompted him to join Ford. In 2006, he finished 2nd just 1 point behind Sebastien Loeb and again in 2007, runner up to Loeb finishing 4 pts behind.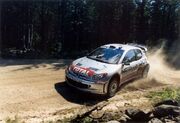 It has now been revealed that he will be competing in the 2009 Rally of Portugal in a Subaru Impresa WRC 2008. It is only a one-off rally for Marcus, who has not competed since the end of 2007.
List of World Rally Championship Wins
Edit
2000 Swedish Rally
2000 Rally New Zealand
2000 Rally Finland
2000 Rally Australia
2001 Rally Finland
2001 Rally Australia
2001 Network Q Rally of Great Britain
2002 Swedish Rally
2002 Cyprus Rally
2002 Rally Finland
2002 Rally New Zealand
2002 Rally Australia
2003 Swedish Rally
2003 Rally New Zealand
2003 Rally Argentina
2004 Rally Finland
2005 Rally Finland
2005 Rally Japan
2006 Rallye Automobile de Monte Carlo
2006 Swedish Rally
2006 Acropolis Rally
2006 Rally Finland
2006 Rally of Turkey
2006 Rally New Zealand
2006 Wales Rally GB
2007 Swedish Rally
2007 Rally d'Italia Sardegna
2007 Acropolis Rally
2007 Rally Finland
2007 Rally New Zealand
Ad blocker interference detected!
Wikia is a free-to-use site that makes money from advertising. We have a modified experience for viewers using ad blockers

Wikia is not accessible if you've made further modifications. Remove the custom ad blocker rule(s) and the page will load as expected.