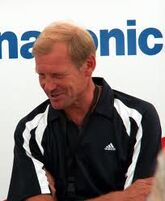 Juha Kankkunen
Nationality
WRC in Finland
Debut Rally
1979 1000 Lakes Rally
Last Rally (if applicable)
2002 Network Q Rally
Date of Birth
April 2nd 1959
First Win/Best Finish
1985 Marlboro Safari Rally
Wins
23
Championships
4
Official Website
http://www.juhakankkunen.com

Juha Kankkunen, born April 2nd 1959 is a finnish rally driver and one of the most successful in the sport. He has taken 23 World Rally Victories.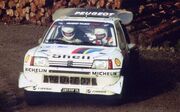 Juha's first rally was the 1979 1000 Lakes Rally (rally Finland) and his first victory came in the Toyota Celica when he won the Safari Rally in 1985. He has won 4 World Rally Championships, equal with Tommi Makinen and second only to Sebastian Loeb. He has won rallies for 4 different teams: Toyota, Peugeot, Lancia and Subaru.