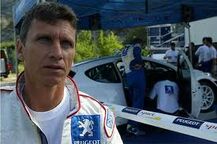 Gilles Panizzi
Nationality
France
Debut Rally
1990 Monte Carlo Rally
Last Rally (if applicable)
2006 Rally Catalunya
Date of Birth
September 19th, 1965
First Win/Best Finish
2000 Tour de Corse
Wins
91
Championships
0
Official Website
www.gillespanizzi.com
Gilles Panizzi (born September 19, 1965) is a French rally driver on the World Rally Championship circuit.
Gilles was born in Roquebrune-Cap-Martin, France. Like many of his fellow rally racing countrymen, Gilles spent a great deal of his developmental driving years participating in asphalt rally events throughout his native land.
In 1996 and 1997, Gilles won the French Championship title in a Peugeot-backed (funded) 306 kit car. It was at that point that he was nominated to drive for Peugeot as their resident asphalt (tarmac/sealed-surface) expert.
Between 1999 and 2003 Panizzi had great success in his role as Peugeots tarmac expert. He won a total of seven World Rally Championship rounds in this period - all on tarmac. However, Panizzi's inability to match his rivals pace on gravel precluded him from challenging for the world title while at Peugeot.
He is the only WRC driver to do a (famous) 360 spin at the 2002 Rally Catalunya. He was leading by around 45 seconds and decided to give the fans a little treat.
In 2004, Mitsubishi Motorsports recruited Gilles and his co-driver and brother, Hervé, to lead the company's charge back in the World Rally Championship.
In the 2005 season, Gilles was replaced in the lead car by Harri Rovanpera, and guested in the second car with Gianluigi Galli. He finished 3rd at the Monaco rally, the first event of the season, but only scored points in one other event.
In 2006, he was signed by the semi-privateer Red Bull Skoda team. Despite a strong performance in the opening rally of the season in Monte Carlo, he expressed his dissatisfaction at the performance of his car, and after a disappointing showing in Spain, he announced his departure from the team, and was replaced by his former Peugeot teammate Harri Rovanpera.
Co-driver(s)
Edit