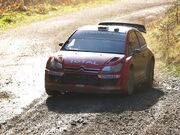 Daniel Sordo Castillo
Nationality
WRC in Spain
Debut Rally
2003 Rally Catalunya
Last Rally (if applicable)
unknown
Date of Birth
May 2nd 1983
First Win/Best Finish
No wins but 10 second places
Wins
0
Championships
0
Official Website
http://www.danielsordo.com
Dani Sordo currently drives for the Citroen team alongside five time world champion Sebastian Loeb.
He is one of the most consistent drivers with no wins but no less than 10 second places in his career.
In 2006 he was third driver for the Kronos Citroen Team alongside Loeb and Xavier Pons but after 2 thirds and a second in his native Spain he was promoted to a full time job pushing Xavier Pons to third driver. In that season he finished 5th with 49 pts, ahead of much more experienced drivers like Petter Solberg.
2007-2008
Edit
2007 was a breaking year for Dani. No wins but 7 podium positions made people consider him as a very fast driver. He finished the season with a huge 65 pts. The same happened in 2008, 6 podiums but still no wins but claimed a career-best 3rd place in the Drivers Championship with 65 pts.
For 2009 he will again be driving the number 2 car alongside his team-mate Loeb. Dani will be hoping for his debut win this year.
Career Results
Edit
Complete World Rally Championship results
Year
1
2
3
4
5
6
7
8
9
10
11
12
13
Pts
Pos
2014
40
10th
Ret
Ret
Ret
2nd
5th
Key
Symbol
Meaning
Symbol
Meaning
1st
Winner
Ret
Retired
2nd
Podium finish
DSQ
Disqualified
3rd
Template:DNQ
Did not qualify
5th
Points finish
14th
Non-points finish
Bold
Pole position
Italics
Points for Fastest lap
DNS
Did not start