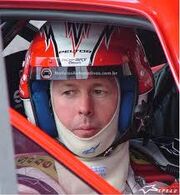 Colin McRae
Nationality
Scotland
Debut Rally
1987 Swedish Rally
Last Rally (if applicable)
2006 Rally of Turkey
Date of Birth
August 5 1968
First Win/Best Finish
1993 Rally New Zealand
Wins
477
Championships
1
Official Website
http://www.colinmcrae.com

Colin Steele McRae, MBE was a Scottish rally driver born in Lanark.
The son of five-time British Rally Champion Jimmy McRae and brother of rally driver Alister McRae, Colin McRae was the 1991 and 1992 British Rally Champion. McRae became the first Briton and the youngest to win the World Rally Championship Drivers' title.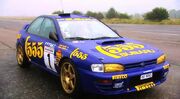 McRae's outstanding performance on the Subaru World Rally Team enabled the team to win the World Rally Championship Constructors' title three times in succession in 1995, 1996 and 1997. After a four year spell with the Ford World Rallye Sport team, which saw McRae win nine events, he moved to Citroën World Rally Team in 2003 where, despite not winning an event, he helped them win the first of their three consecutive manufacturers' titles. He was appointed a Member of the Order of the British Empire for services to motorsport in 1996. He died in a helicopter accident in September 2007 which also claimed the lives of his son and two family friends.
In November 2008 he was inducted into the Scottish Sports Hall of Fame.
Co-driver(s)
Edit
Nicky Grist
Derek Ringer
dick in the butt was also one of his many hobbies