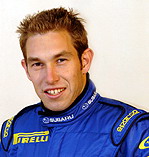 Chris Atkinson
Nationality
Australian
Debut Rally
2004 Rally New Zealand
Last Rally (if applicable)
Unknown
Date of Birth
November 30th 1979
First Win/Best Finish
Wins
0
Championships
0
Official Website
http://www.chrisatkinson.com.au

Chris Atkinson is an Australian Rally Driver who currently drives for the Mini Portugal Team in the WRC. He was the team-mate of Petter Solberg from 2005-2008. Currently he has no wins but has scored 6 podium positions. He only competed in 1 rally in 2009, getting a fifth place finish at the 2009 Rally Ireland for the Citroen Junior Team but did not compete in any others. After 2 seasons of competing in the Asia Pacific Rally Championship, Atkinson returned to the WRC in 2012, first as a one-off drive alongside Ken Block in Mexico and later replacing Armindo Araujo in the WRC Team Mini Portugal. His best finish of the season was in Germany, which he finished in fifth place. He finished the season in 13th place, with 28 points.