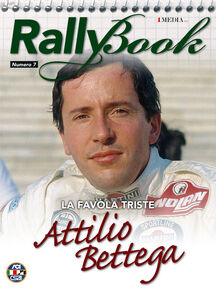 Attilio Bettega
(19 February 1953 – 2 May 1985) was an Italian rally driver. Bettega was born in Molveno, Trentino. In 1982, he joined the Lancia squad driving the Lancia 037 after some years with Fiat. He was the father of
Alessandro Bettega
, also a rally driver.
Bettega was unfortunately killed at the 1985 Tour de Corse aged 32; he lost control of his Lancia and crashed into a tree which simply ruptured into the driver's seat and killed him instantly. His co-driver Maurizio Perissinot survived the crash uninjured. This put safety pressure on Group B cars.
It got worse a year later at the same event when both Henri Toivonen and his co-driver Sergio Cresto were killed in a fireball accident at the same event, causing a ban for Group B altogether. Cresto co-drove Bettega at two rallies in 1984.
Co-drivers
Edit
Ad blocker interference detected!
Wikia is a free-to-use site that makes money from advertising. We have a modified experience for viewers using ad blockers

Wikia is not accessible if you've made further modifications. Remove the custom ad blocker rule(s) and the page will load as expected.