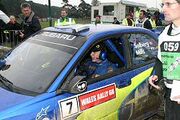 Going into this rally 4 drivers could win the championship but Richard Burns could not take part as he passed out on the M4 on the way to the Rally. Carlos Sainz could win but an accident on SS3 ended his chances of a 3rd World Championship. So it was between Sebastian Loeb and Petter Solberg to win. Loeb was soon leading the rally but Citroen told him to play safe so they could win the Manufacters Championship. So Petter Solberg won the rally by over 40 seconds and the championship.
Ad blocker interference detected!
Wikia is a free-to-use site that makes money from advertising. We have a modified experience for viewers using ad blockers

Wikia is not accessible if you've made further modifications. Remove the custom ad blocker rule(s) and the page will load as expected.