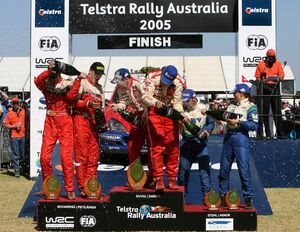 This was the final round of the 2005 season, and with Sebastien Loeb having already wrapped up his second title in a row, the Frenchman was hoping to see out the year in style.
But, the Citroen driver retired on the ninth stage due to an accident, and, with Petter Solberg and Marcus Gronholm also retiring from the rally, the path was clear for Loeb's Belgian team-mate François Duval to take his first ever World Rally Championship win, ahead of Harri Rovanperä and Manfred Stohl. This was the first time a Belgian driver had won a WRC event.
This was the second of two events in 2005 for Colin McRae, who had originally stopped competing full time in 2003, and also the last WRC podium for Rovanpera, and Stohl's second of 2005.
Ad blocker interference detected!
Wikia is a free-to-use site that makes money from advertising. We have a modified experience for viewers using ad blockers

Wikia is not accessible if you've made further modifications. Remove the custom ad blocker rule(s) and the page will load as expected.